Pallet trucks
For safety enhancement and first in Japan, parking brake is equipped as one of the standard features.
Smooth and easy handling : With the neutral control on hydraulic pump, all you need to do is to set the handle in the neutral position, then it requires little effort to pull or push the truck.
Safety device: Overload prevention is equipped on the hydraulic pump.
Descending speed control: Descending speed can damage loaded goods. It can be controled easily by angles of the tiller.
Urethane Tires: Provide quiet, smooth running , and high durability.
NC Series
hand drive / Electric lift / Load capacity 1000-3000kg
Product Demonstration
Big handle made of plastic
Hydraulic pump with over-loading prevent device
Falling speed control available by grip adjustment
Material of fork is 4.5 centimeters in thickness
White tiers is standard
Large size guide ski which can move in and out the pallet is equipped
Pallet trucks – Sales feature
Our truck is good at efficiency and laborsaving. This is a reason why our pallet truck is chosen by a lot of people.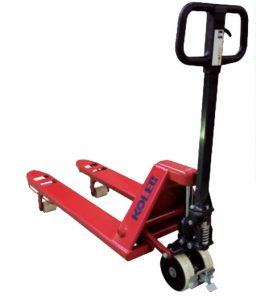 Specifications
Type designations
ND10-48
ND10-49
ND10-58
ND10-59
ND10-510
ND10-511
ND10-610
ND10-710
ND10-712
Load capacity(kg)
1000
1000
1000
1000
1000
1000
1000
1000
1000
Fork dimensions(mm)
W
460
460
520
520
520
520
600
685
685
L
810
980
810
980
1070
1150
1070
1070
1220
Minimun height(mm)
80
80
80
80
80
80
80
80
80
Max height(mm)
200
200
200
200
200
200
200
200
200
Steering wheel
Polyurethane 180φ×50
Polyurethane 180φ×50
Polyurethane 180φ×50
Polyurethane 180φ×50
Polyurethane 180φ×50
Polyurethane 180φ×50
Polyurethane 180φ×50
Polyurethane 180φ×50
Polyurethane 180φ×50
Load wheel
Polyurethane 76φ×85
Polyurethane 76φ×85
Polyurethane 76φ×85
Polyurethane 76φ×85
Polyurethane 76φ×85
Polyurethane 76φ×85
Polyurethane 76φ×85
Polyurethane 76φ×85
Polyurethane 76φ×85
Net weight(kg)
65
69
65
69
70
72
76
75
78
Specifications
Type designations
ND10-610
ND10-710
ND10-712
ND15-48
ND15-49
ND15-58
ND15-59
ND15-510
ND15-511
Load capacity(kg)
1000
1000
1000
1500
1500
1500
1500
1500
1500
Fork dimensions(mm)
W
600
685
685
460
460
520
520
520
520
L
1070
1070
1220
810
980
810
980
1070
1150
Minimun height(mm)
80
80
80
80
80
80
80
80
80
Max height(mm)
200
200
200
200
200
200
200
200
200
Steering wheel
Polyurethane 180φ×50
Polyurethane 180φ×50
Polyurethane 180φ×50
Polyurethane 180φ×50
Polyurethane 180φ×50
Polyurethane 180φ×50
Polyurethane 180φ×50
Polyurethane 180φ×50
Polyurethane 180φ×50
Load wheel
Polyurethane 76φ×85
Polyurethane 76φ×85
Polyurethane 76φ×85
Polyurethane 76φ×85
Polyurethane 76φ×85
Polyurethane 76φ×85
Polyurethane 76φ×85
Polyurethane 76φ×85
Polyurethane 76φ×85
Net weight(kg)
76
75
78
65
69
65
69
69
72
Specifications
Type designations
ND15-610
ND15-76
ND15-710
Load capacity(kg)
1500
1500
1500
Fork dimensions(mm)
W
600
685
685
L
1070
650
1070
Minimun height(mm)
80
80
80
Max height(mm)
200
200
200
Steering wheel
Polyurethane 180φ×50
Polyurethane 180φ×50
Polyurethane 180φ×50
Load wheel
Polyurethane 76φ×85
Polyurethane 76φ×85
Polyurethane 76φ×85
Net weight(kg)
76
67
75
Specifications
Type designations
ND15-712
ND25-58
ND25-59
ND25-510
ND25-610
ND25-710
ND25-712
ND30-510
ND30-712
Load capacity(kg)
1500
2500
2500
2500
2500
2500
2500
3000
3000
Fork dimensions(mm)
W
685
520
520
520
600
685
685
520
685
L
1220
810
980
1070
1070
1070
1220
1070
1220
Minimun height(mm)
80
80
80
80
80
80
80
80
80
Max height(mm)
200
200
200
200
200
200
200
200
200
Steering wheel
Polyurethane 180φ×50
Polyurethane 180φ×50
Polyurethane 180φ×50
Polyurethane 180φ×50
Polyurethane 180φ×50
Polyurethane 180φ×50
Polyurethane 180φ×50
Polyurethane 180φ×50
Polyurethane 180φ×50
Load wheel
Polyurethane 76φ×85
Polyurethane 76φ×85
Polyurethane 76φ×85
Polyurethane 76φ×85
Polyurethane 76φ×85
Polyurethane 76φ×85
Polyurethane 76φ×85
(W Wheel)
(W Wheel)
78φ×70(W)
78φ×70(W)
Net weight(kg)
78
69
71
71
77
76
79
95
99
Specifications
Lowboy type
Type designations
NDL10-58
NDL10-59
NDL10-510
NDL10-610
NDL10-710
NDL10-712
NDL15-58
NDL15-59
NDL15-510
Load capacity(kg)
1000
1000
1000
1000
1000
1000
1500
1500
1500
Fork dimensions(mm)
W
520
520
520
600
685
685
520
520
520
L
810
980
1070
1070
1070
1220
810
980
1070
Minimun height(mm)
65
65
65
65
65
65
65
65
65
Max height(mm)
165
165
165
165
165
165
165
165
165
Steering wheel
Polyurethane 180φ×50
Polyurethane 180φ×50
Polyurethane 180φ×50
Polyurethane 180φ×50
Polyurethane 180φ×50
Polyurethane 180φ×50
Polyurethane 180φ×50
Polyurethane 180φ×50
Polyurethane 180φ×50
Load wheel
Polyurethane 65φ×100
Polyurethane 65φ×100
Polyurethane 65φ×100
Polyurethane 65φ×100
Polyurethane 65φ×100
Polyurethane 65φ×100
Polyurethane 65φ×100
Polyurethane 65φ×100
Polyurethane 65φ×100
Net weight(kg)
65
69
70
76
75
78
65
69
70
Specifications
Lowboy type
Type designations
NDL15-69
NDL15-511
NDL15-610
NDL15-710
NDL15-712
NDL25-510
NDL25-610
NDL25-710
NDL25-712
Load capacity(kg)
1500
1500
1500
1500
1500
2500
2500
2500
2500
Fork dimensions(mm)
W
630
520
600
685
685
520
600
685
685
L
980
1150
1070
1070
1220
1070
1070
1070
1220
Minimun height(mm)
65
65
65
65
65
65
65
65
65
Max height(mm)
165
165
165
165
165
165
165
165
165
Steering wheel
Polyurethane 180φ×50
Polyurethane 180φ×50
Polyurethane 180φ×50
Polyurethane 180φ×50
Polyurethane 180φ×50
Polyurethane 180φ×50
Polyurethane 180φ×50
Polyurethane 180φ×50
Polyurethane 180φ×50
Load wheel
Polyurethane 65φ×100
Polyurethane 65φ×100
Polyurethane 65φ×100
Polyurethane 65φ×100
Polyurethane 65φ×100
Polyurethane 65φ×100
Polyurethane 65φ×100
Polyurethane 65φ×100
Polyurethane 65φ×100
Net weight(kg)
76
72
76
75
78
71
77
76
79
Specifications
Adjustable fork width pallet truck
Type designations
NDAJ15
Load capacity(kg)
1500
Fork dimensions(mm)
W
530~680
L
1160
Minimun height(mm)
80
Max height(mm)
200
Steering wheel
Polyurethane
180φ×50
Load wheel
Polyurethane
76φ×85
Net weight(kg)
80
Dimensions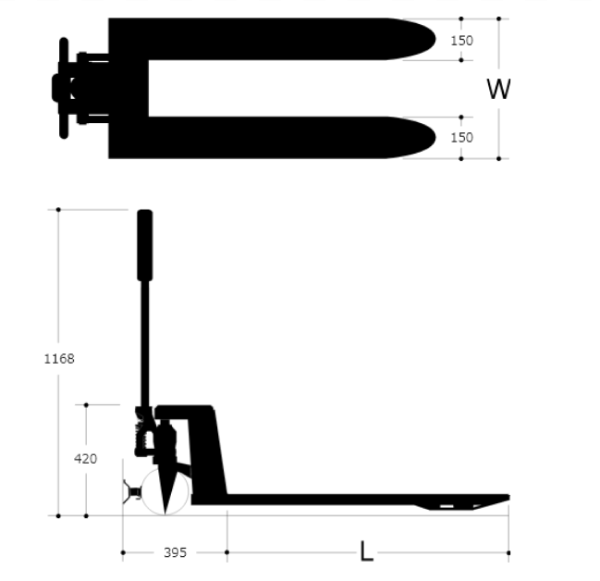 Dimensions
ND10・15・25 Normal type

ND30 Normal type

NDL10・15・25 Lowboy type