Electric towing tractor
Operator friendly design, with wide and low entry step to get on and off.
Wide and low entry step for easy getting on and off.
Sophisticated, cutting edge, beautiful design.
Battery cover lid to open fully for easier maintenance. Smooth and easy control with the AC drive motor and the regenerative braking system.
Maintenance free motor; no need for exchanging carbon brush like DC motor. Large and clear multi display to provide information for an operator. New high-performance steering wheel for easy maintenance.
Electric towing tractor DSPX Series​
Electric travel / Towing capacity 5t, 6t​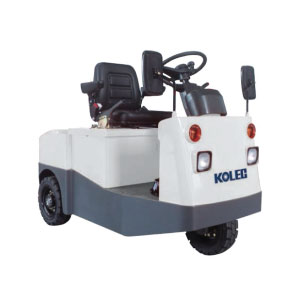 Economical,eco-friendly and ergonomically designed.
Towing of trailers to pick, move and transfer oparations in industries.
Ideal for Cargo Tugging in Airports, In-plant and Warehouses.
Sleek, Sturdy and Stable for better maneuvering in narrow aisles.
Highly Efficient for Gradient Oparations.
Electric towing tractor DSP.DTP Series
Electric travel / Towing capacity 1.3t.2t.3t
Two basic models to choose from either seat or walk-through type; depending on a type of trailer, loading weight, and duty.
Can be customized by equipping features such as a tow bar door, a canopy, a front glass, a yellow warning light, and other necessary features to make the truck suitable for your warehouse and working environment.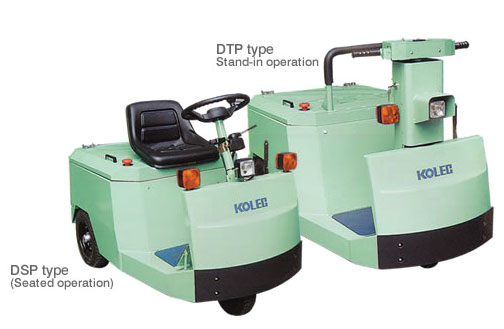 You can choose from towing capacity 1300~3000kg for your requirement.
Each model can be chosen between seated and stand-in operation.
The body is compact size, but it have satisfactory width for stability.
You can serve easily every day, because a batter cover can open full.
Battery can be pulled out from rear side of body. ( Option )
Electric towing tractor – Sales feature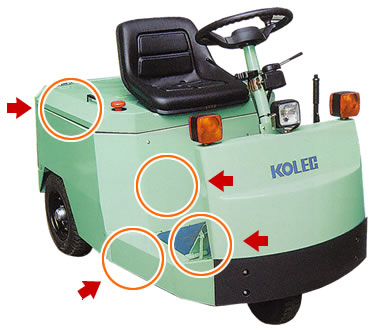 Electric towing tractor DTPM/DSPM Series
Model DTPM 300/500

Economical, Eco-Friendly and Ergonomically Designed.
Towing of trilers to pick, move and transfer operations in Industries.
Ideal for cargo tugging in Airports, In-plant and Warehouses.
Sleek, Sturdy and Stable for better manoeuvring in narrow aisles.
High efficient for gradient operations