Hand lifers & electric lifters
The electric drive lifter from KHD series is designed to make turning raridus the utmost degree with four wheels.
Operation license or training is unnecessary for this LIFTER. Anyone can drive and operate this LIFTER with no time. (Please note that other trucks from KHD series require license and training)
Its light weight allows it working on the mezzanine or second floor with no fear of floor loading carrying capacity.
Electric lifter KH Series
Hand drive / Electric travel / Electric lift / Load capacity 500.700kg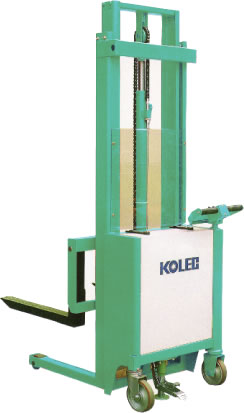 Product Demonstration
We offer 6 models which drive by electric and hand.
KHD model of electric drive can be realized small turning radios.
Anybody can operate easily.
KHD model is designed to be light weight. This model suit transfer on upper floor which has load limiting.
Dimensions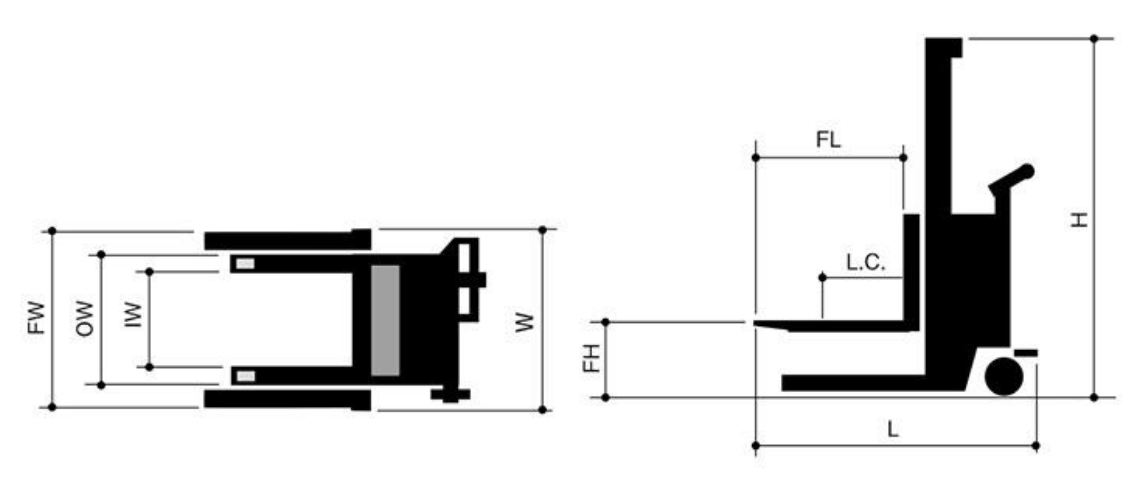 Type designations
Travel by hand
Electric travelling
KH5100
KH5200
KHD510
KHD520
KHD710
Load capacity
/L.C.
500kg/300mm
500kg/300mm
500kg/300mm
500kg/300mm
700kg/350mm
Fork height
FH
85~1420mm
85~2500mm
85~1420mm
85~2500mm
75~1400mm
Lifting speed
120mm/s
120mm/s
120mm/s
120mm/s
80mm/s
Travel speed
-
-
2.0km/h
2.0km/h
2.0km/h
Fork length
FL
600mm
600mm
600mm
600mm
770mm
Fork width
FW
730~160mm
730~160mm
730~160mm
730~160mm
800~240mm
Outside width
OW
560mm
560mm
560mm
560mm
580mm
of legs
Inside width
IW
420mm
420mm
420mm
420mm
380mm
of legs
Overall width
W
750mm
750mm
750mm
750mm
860mm
Overall
L
1150mm
1150mm
1150mm
1150mm
1300mm
length
Overall
H
1850mm
1800mm
1850mm
1800mm
1950mm
height
Battery
12V100AH/5h
12V100AH/5h
12V100AH/5h
12V100AH/5h
12V100AH/5h
Battery charger
5A(on borad)
5A(on borad)
5A(on borad)
5A(on borad)
5A(on borad)
Weight
220kg
280kg
240kg
300kg
370kg
Case Introduction